Today the Morrison government announced the home builder scheme to stimulate the economy. Running from June to December, the scheme affords a $25,000 grant to homeowners. This presents a great opportunity for business owners in the construction industry.
Who is eligible?
To be eligible for the grants;
Singles need to earn $125,000 a year or less based on a 2018-19 tax return or later, and couples need to earn under $200,000,
Building contracts need to be executed between 4 June and 31 December 2020,
For a new build, the home must be the principal place of residence valued up to $750,000 including the land,
To renovate an existing property, the upgrade needs to be valued between $150,000 and $750,000 and the existing property must be worth less than $1.5m before the renovation,
Construction must be contracted to commence within three months of the contract date.
How can my business make the most of this scheme?
Due to the significant impacts of COVID-19 on the whole economy, it is important to maximise government schemes as they become available. That includes taking advantage of those which stimulate activity in your sector. Act now!
The most important thing is to be on the front foot by getting in front of your customers. Our partners at The K.I.S.S Marketing Agency have provided their top five recommendations for marketing the home builder scheme. You can also check out their special tradie package here or below.
Identify your target audience: By understanding the eligibility requirements, you can really outline a specific audience for your campaign. Homebuyers under $750,000 or homeowners under $1.5 million who want to undertake renovations,
Understand their needs: What are their pain points? What are they looking for in a builder?
Present your services: Clearly and articulately present your services in a way that meets their needs. We call this a benefit-led approach. For example, we can renovate your kitchen and manage the project, so you don't have to worry about the details.
Build credibility: Competitors are bound to flood the market. How do you stand out? Use case studies, testimonials and experience to establish your credibility.
Send the message: Yay! You now have a clear message. Send it to your existing audience. Be sure to take care of the aesthetics and ensure your tone of voice is on-brand.
Amplify the message: With an opportunity like this, you need to expand past your current database. We recommend creating a paid campaign to amplify your well-crafted message to your highly targeted audience. There are plenty of channels to chose from, find the one that is right for you. For example, you could employ Facebook advertising, Google ads, radio or print media.
Darnelle O'Brien
(02) 9527 6516
darnelle@thekissagency.com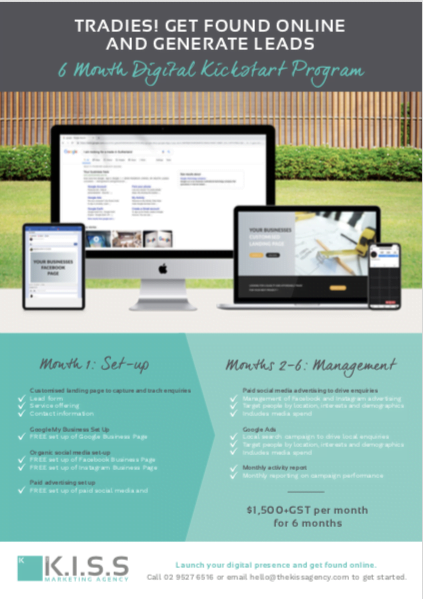 Do you need assistance?